The breakout rooms feature allows you to divide your Zoom conference into separate discussion rooms. You can create up to 50 session rooms, and each hall can have up to 200 participants.
In order to enable "Session rooms", you need to log in to your personal account.
Next, select "Settings"
Go to the "Conference" menu and select the "Advanced" option
on Your monitor screen, the "Breakout rooms" button will appear at the bottom right.
The organizer of the room can Zoom to divide the participants into separate session rooms manually or automatically.
Participants in the discussion room have all the capabilities to share audio, video, and monitor screens. They can write to the chat and record the event. In addition, participants can ask for help and invite host to their room.
If a conference is recorded in the cloud, only the main room will be recorded, regardless of which room the meeting organizer is in. If local recording is used, it will record the room where the participant who is recording is located (you can read more about cloud and local recording here).
To complete the session rooms, press menu in the session rooms "Close all of the rooms". In this case, after 60 seconds, the session rooms will finish their work and all participants will automatically return to the main conference.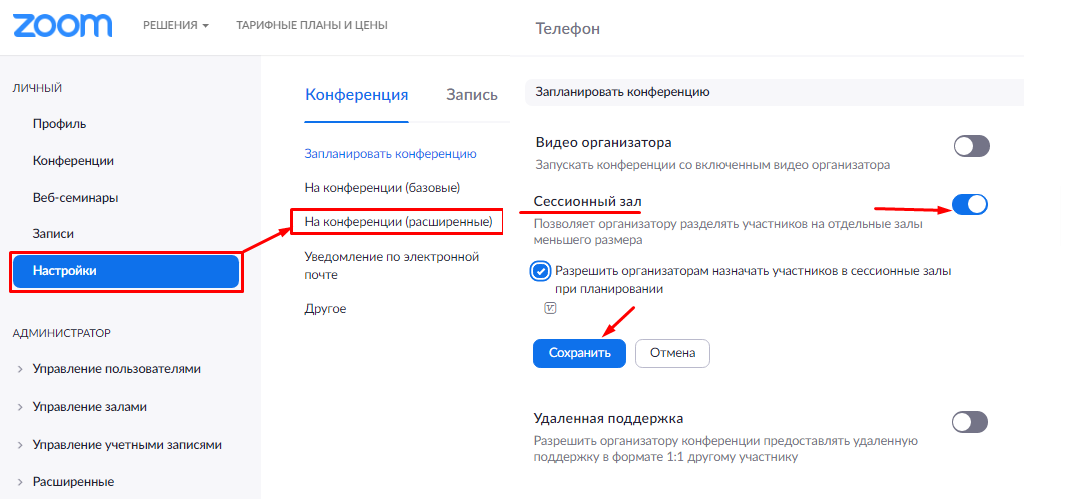 The session rooms feature will be especially useful for teachers and anyone who is engaged in distance learning. The conference organizer can distribute individual tasks to students and distribute them to separate rooms.
Or, alternatively, when holding a meeting between employees of the company, they can then split into separate rooms for further discussion. The meeting organizer can freely switch between rooms.
Previously, only the organizer could record a Zoom session in Session rooms. He was recording the main room. Recording of the session rooms themselves was not available. After one of the latest updates to the Zoom service, it became possible to record directly in session rooms.
Note: Users who join a Zoom meeting using the Zoom Desktop Client, Zoom Mobile app, or H. 323 / SIP devices can participate in session rooms. Users who connect via the web client and Zoom Rooms cannot join session rooms, but the main room can be used as an alternate session for these users.